Sustainable chicken feed company launched by biology students
A course in bio-entrepreneurship was the basis for a new life as an entrepreneur for two biology students from Aarhus. After receiving two financial contributions, they are now a major step closer to creating a successful independent company within sustainable chicken feed.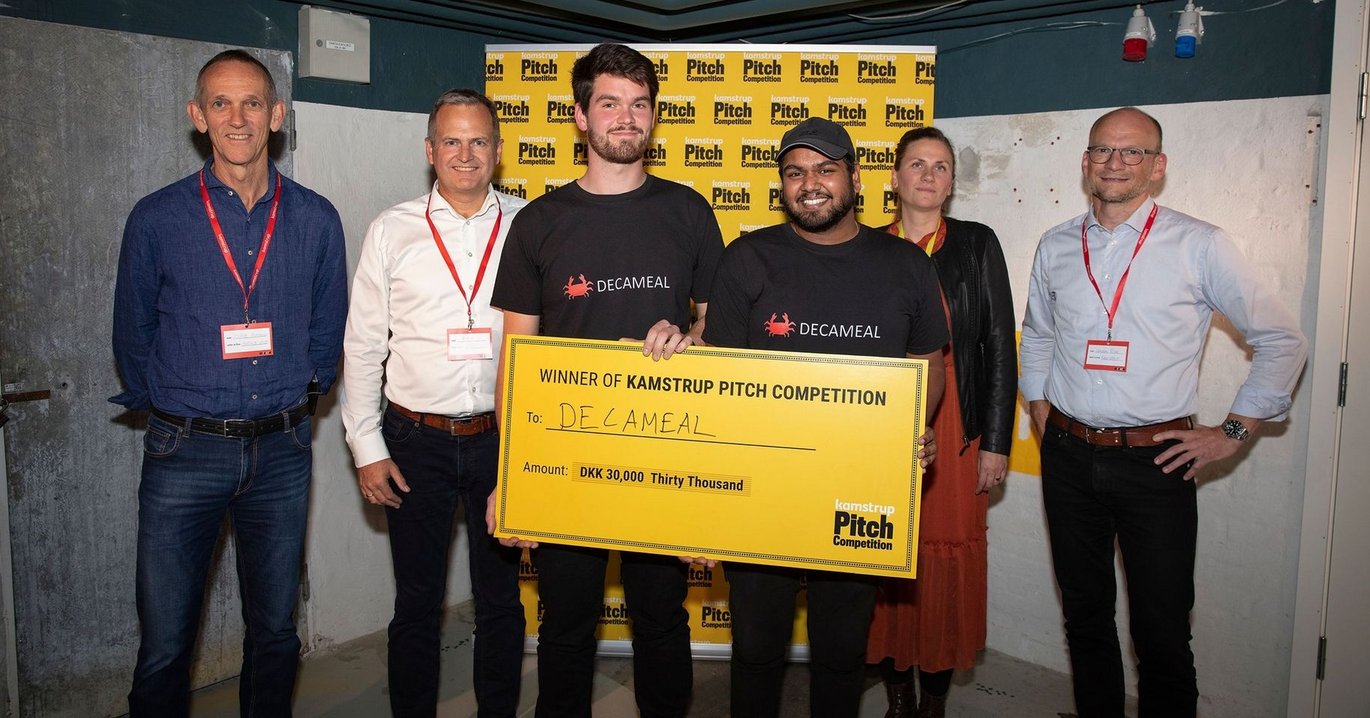 It was not in the cards that Leander Hessner and Happylan Natkunarajah should take the entrepreneurial path when they started the biology degree programme. But after a course in bio-entrepreneurship, they took the opportunity to continue working with their company idea of the production of sustainable chicken feed.
European green crabs make the company sustainable
The company is called "Decameal" composed of the two English words decapoda and meal. The aim is to use European green crabs as a source of protein in the feed instead of soya, and in this way create a more sustainable feed for egg laying hens.
"Every time a fisherman empties pots and fish traps to get lobsters and flatfish, he often has to throw several hundred kilograms of crabs back into the sea. Decameal buys the already existing bycatch of crabs and uses them in the production, " Leander Hessner says.
Green visions of the company
In general, it is the green visions that govern the company's progress.
"We have chosen only to use secondary catches and solely from Denmark for the time being. Of course, this presents logistical challenges, but we will not risk destroying biodiversity via commercial fishing. Nor does it make sense that Denmark needs to import 1.6 million tons of soya from other countries when we have good alternatives in this country, "Leander Hessner says.
The project aims to benefit life in the sea-. European green crabs are an endemic species, but they are now so abundant that they constitute a serious strain on the marine ecosystem. Pollution and overfishing mean that fish normally eating crabs have almost disappeared.
"The European green crabs are very hardy and can cope with most conditions, and because most of the crab's natural enemies have disappeared, they have taken over many sea areas and have a negative impact on the ecosystem. They destroy important habitats for other species when they clear mussel shell banks or eat shoots from eel grass, and they reduce commercially important fish stocks when eating fish eggs and larvae. We do not want to remove the crabs, but their numbers must be reduced to a less stressful level and thereby restore the balance in the sea," Leander Hessner says.
Micro-grant and pitch competition gave the final boost
"Neither Happy nor I had thought that we should be self-employed, but that is the plan now. The first step was to gather some money to buy production equipment. Following the guidance from our teachers on the course, we applied for a Sustainable Development Goal micro-grant from the Foundation for Entrepreneurship, and we received DKK 15,000. Further, in the autumn of 2021, we won the Kamstrup Pitch Competition, which has added a DKK 30,000 to the project," Leander Hessner says.
The two entrepreneurs are currently in full swing testing production methods, analysing nutritional content and investigating possibilities for upscaling. They have made an agreement with a local mink breeder to use his facilities to produce the foul-smelling feed, and then the feed samples are sent to the Eurofins laboratories that analyse the samples for minerals, amino acids and proteins.
Decameal has also become part of AU's House of Entrepreneurship "The Kitchen". Here they have been assigned an adviser who gives them valuable tips and tricks.
An entrepreneur course for biologists started it all
The Bio-entrepreneurship course at the Department of Biology introduced the theory of entrepreneurship, and the course had a very free framework for what the students chose to work with. The only requirement was that it should be connected with the UN's Sustainable Development Goals. Quickly, Leander Hessner and Happylan Natkunarajah were gripped by the subject and invested many hours in it.
"At first, I was extremely sceptical about the theory. I thought it was bullshit. But much of it makes good sense now, because when you talk to companies and business angels and investors, they use the theory in practice. The course also gave us a very good pitch training, which we tried in different contexts and with competent feedback," Leander Hessner says.
Read more about the bio-entrepreneurship course at Department of Biology: Bio-Entrepreneurship (au.dk)